Hi I'm Mindful Jess. I am a passionate yoga practitioner, a movement artist, creative director and a wellness warrior. I spend most of my time inverted, creating interesting content, or doing acrobatics on another human. I live in a Spiritual Playground. I've created a life I always dreamed of.
I found my TRUTH and MAGIC after completing a personal challenge I called #yogaproject108 in 2017. I went to 108 yoga classes in 108 days in a row. During this time I cultivated awareness, became deeply connected to my practice and my community, and experienced an epic Spiritual Awakening. I finally took ownership of a 20 year eating disorder and committed myself to my recovery and my wellness journey.
So...that's how I got here. Now my mission is to help you find your own personal TRUTH and MAGIC. I am here to facilitate transformation, to get you in your BODY and out of your MIND.
My approach to teaching is starting from the ground up. Making sure there is a solid understanding and foundation of the basic postures, sun salutations, and chaturanga first and foremost. I'll work with you on alignment, strength, flexibility, and balance. I will tailor the private to foster your specific goals and needs. Once the foundations of yoga are understood and practiced then I can teach and spot you on some more advanced postures like inversions, heart opening, and interesting transitions.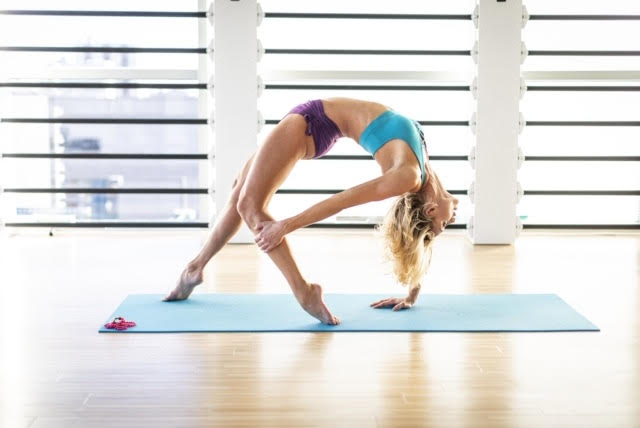 Elevated Acro is all about elevating your acrobatic experience. Whether it's private lessons, workshops, festivals, or performance. I am committed to setting the bar high. My goal is to LIFT YOU UP by always bringing positivity, safety, and knowledge in all things acrobatics and the CIRCUS ARTS. Including but not limited to…
*Hand Balancing
*Contortion Training
*Standing Partner Acrobatics
I am passionate about teaching all levels and especially beginners because this is where the foundations of any acrobatic practice are built. With a solid foundation YOU CAN ACHIEVE ANYTHING!
I've been training acrobatics since I was 4 years old. I grew up training with world class coaches and athletes in gymnastics. My teammates were olympians and my coaches were national and olympic coaches. I was a TOPS strength and conditioning national finalist two years in a row with USAG. This is where I learned proper conditioning, form, technique, drills, and so much more. This sport taught me patience, discipline, and confidence. I ended my career at an elite level.
I then went on to pursue my love of dance. I danced in a company and competed in jazz, modern, ballet and hip hop for many years. I still love to dance and choreograph a variety of different types of performance, including duo acrobatics.
I began coaching dance and gymnastics at the age of 16. I've been coaching and choreographing gymnastics since that time, so for about 18 years.
This spring I spent four weeks training duo acrobatics at Pitch Catch Circus School and learned from some of the best circus coaches in the world.
Whatever your goals are around acrobatics. I'd love to work with you. I am here to help and to be a resource along your journey.
Together, let's ELEVATE, and make some MAGIC too.
A creative, wellness based space filled with positive energy where you are free to teach, learn, create, move, or just be.
The total space is about 1900 blissful square feet. It includes two bedrooms and two bathrooms. The front bedroom can be a photography studio or artists studio. Almost every item in the space is mobile and can be used as a prop for photography or anything you desire. There is lots of natural light coming from three huge West facing windows at the front of the space. There is a full kitchen in the middle of the space for cooking meals or storing snacks and refreshments.
The space also includes a ballet bar, aerial yoga silk on a spinner, mats, blocks, blankets and other yoga props. It even has a mini tramp.
The space can be rented on an hourly basis or for up to three days at a time. It is ideal for photographers, yoga workshops, yoga classes, private lessons, meditation, massage therapy, Reiki, or any other wellness based activity.
There is ample parking in the back of the building after 5pm on weeknights and on the weekends.
Please contact me for rates and availability.